I'm going to try and document all of the things I've done to the house since we bought it while also showing what I'm working on currently. Unfortunately, I don't have any pictures yet of the laundry room, new chicken run fence, bookshelves, or rug for Sofi Sue's room. These are the projects I am in the middle of now (yes, I might have a little home renovation ADHD). Instead I'll show you what we've done so far with the stairs in our house.
Here is the before and after of our bottom concrete step out front:
Before


After
Although it does look better and, more importantly, is up to code, I'm disappointed that within a few months the concrete pad started to crumble. I was in a time crunch to find someone to get this done, in the future I'll make sure to take my time and find someone who is more professional!
Here is the before and after of the steps going from the first floor to the second floor:
Before


After
As with so many things in our house, the stairs were not at all what I expected when I pulled up the carpeting. The original stairs with the dark stained risers stop halfway down to be replaced with newer unfinished lumber. You can also see the strange little half step that the village made us put in because that last step was a doozy! I'd love to know what happened to the bottom original stairs. Were they configured differently or simply replaced for some reason? Inquiring minds want to know! Eventually I'll actually do something with these stairs, but I have to say that if you live with anything long enough it kind of disappears and I rarely even notice them anymore.
Here is the before and after of our last set of stairs, the stairs leading from our first floor to the basement:
Before
After
Nope, the multi-colored wide variety of patterns was not a decorating choice, but a money saving one. We got the carpet squares
HERE
. At a dollar a square foot the price was right to help us replace the last of the old carpeting and get rid of the last of the dog hair from the previous owner. I have gotten compliments on it and after seeing this sofa from Joybird.com: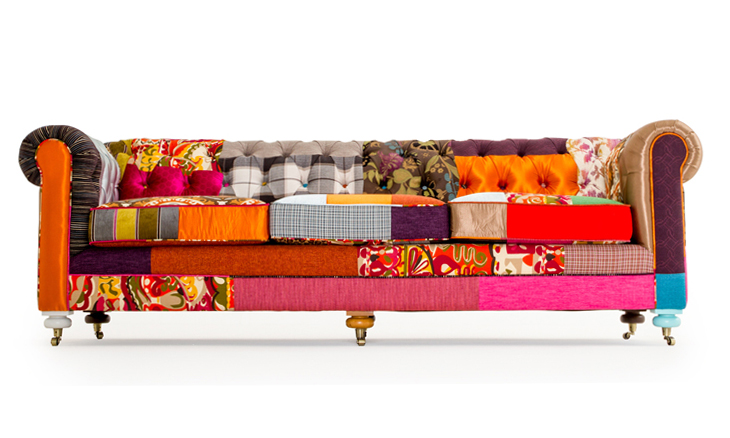 I can pretend like I was ahead of the whole patchwork craze curve!